Ducks give 2021 honors to professors and students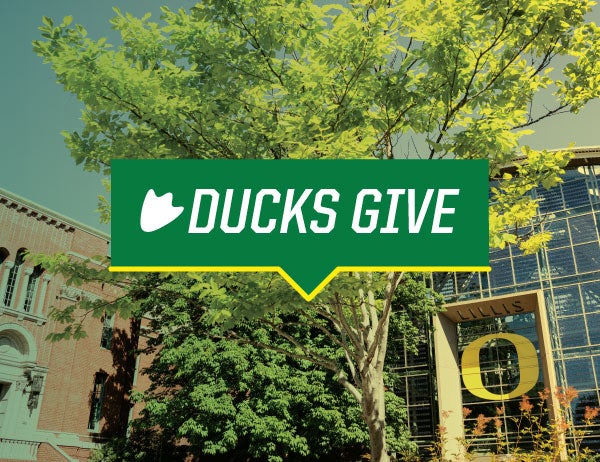 The dedication and generosity of our friends and alumni has an incredible impact.
As a university, alumni and friends helped raise more than $ 1,058,000 with 1,438 gifts during the University of Oregon's Ducks Give 2021 Giving Day.
Here at Lundquist College of Business, 94 donations were made to support Lundquist College students and faculty, for an incredible $ 358,130 in just 24 hours. In fact, these donations accounted for almost 34% of all funds raised through the university.
Scott '74 and Linda '74 Andrews and Jim '64 and Andi '64 Sandstrom gave gifts to the Lundquist College of Business Investors Fund Challenge.
The Sandstroms also answered the call by the creation of the merit scholarship at Lundquist College of Business, focusing on students from underrepresented populations and first generation students, and inspiring others to contribute to this scholarship.
This year, donors were encouraged to include a note on the teachers who inspired them with their gift.
Emily Watts, MBA '21, gave in honor of Whitney Wagoner. Michael Ritchey '80, MBA '81 donated in memory of Jim Warsaw.
Tristan Rekdahl '20, MActg '21 paid tribute to Associate Professor Nicole Johnson and instructors Dan Howard and Michael Tomcal.
About Tomcal, Rekdahl wrote, "I am grateful for your continued support for accounting students. He praised Johnson's organization and Howard's care.
An anonymous donor donated in honor of Scharpf accounting professor David Guenther.
Lauren Sokol, MBA '17, donated to Ducks Give in honor of the Warsaw Sports Marketing Center.
"I am sure I would not be where I am today without Warsaw, the community and the amazing people I have met through the program and with whom I am still close today," said Sokol, Manager of the senior brand at The IRONMAN Group. "Through the education and experience I gained in Warsaw and the Oregon MBA in general, I am able to think and work with a holistic understanding of the sport business on a daily basis. The Warsaw way of thinking has really helped me build strong relationships, learn and grow transversely in my current role.
A complete list of those investing in the future of Lundquist College of Business for Ducks Give 2021 can be found on the website donor wall.
Thank you to everyone who donated and supported Lundquist College of Business and the University of Oregon during Ducks Give 2021. You are an inspiration to all of our students and faculty.
—AnneMarie Knepper-Sjoblom '05, Lundquist College Communications