In the chaos of war, Jackson's volunteers favor a disjointed approach | People in Ukraine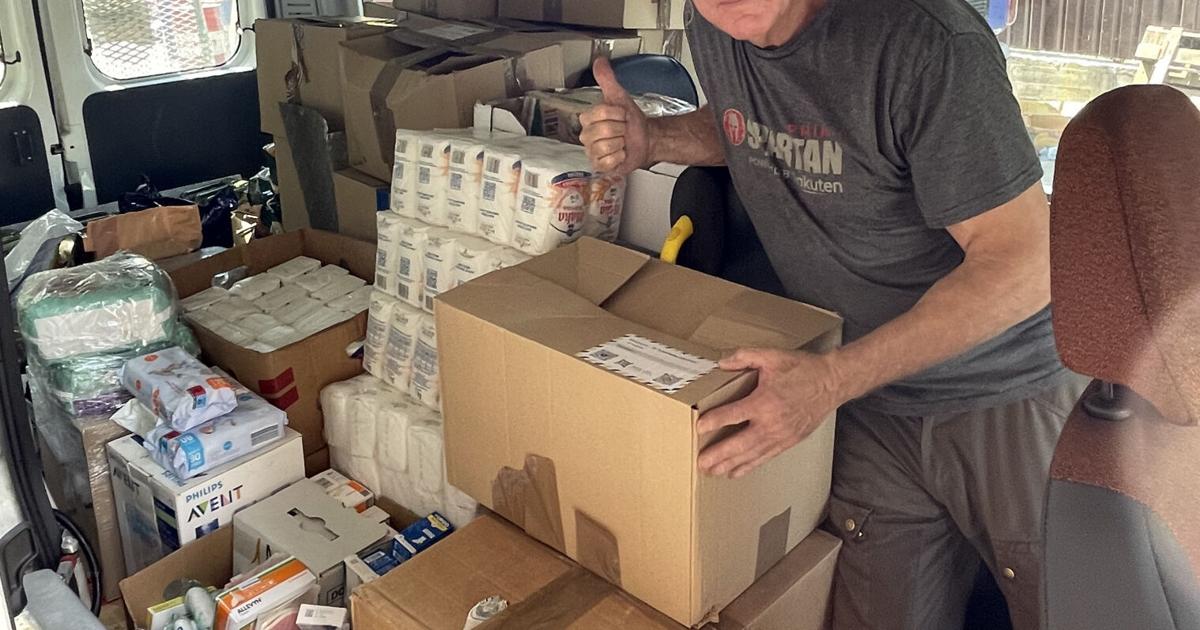 As most Americans celebrated an Independence Day this weekend, Jackson resident David Craig was helping Ukrainian citizens in their fight for sovereignty.
First featured in News&Guide in March, Craig has been in Ukraine since the first weeks of the Russian invasion. Its operation is simple: load a van with food and medical supplies from the Polish border, then drive them to war-torn towns like Bucha.
This week, he and his Ukrainian co-pilot, Eugene Oniskevich, received a request for food and hygiene for a local community that includes five to six villages in the Dnipro region. All they were told was to bring enough food for 400 families, or about 950 people.
Craig, 65, wears a bulletproof vest when he travels and is aware of the danger. But he is also driven by the sense of purpose behind his work.
"If I have to die, I will die. You know, I've lived a great life – an amazing life compared to most people – and my son knows I'm doing what I want to do. I'm helping someone," he said in a direct call from Warsaw on Friday.
"When you're arrested in a house, and it's just rubble, and they're still living in that house…just giving them that food helps them for a day, a week. What they are all grateful for is that America is helping Ukraine.
Some of Craig's friends, mostly international members of the Spartan racing collective, were killed while fighting or helping family members escape. A gas station where he was filling up was bombed a few hours after he left.
More recently, a resupply in Warsaw helped him dodge the June 26 missile strike in Kyiv, which hit a residential building, killing one man and injuring six.
"It could have been me," Craig said. "He knocked near the house of a friend who said he broke the neighbor's windows."
As he said before, Craig doesn't plan to leave until the war is over.
"When you're able to touch these people's souls in a way that we were able to, why would I want to leave?" he said.
Karen Hogan, another Jackson resident, recently returned from Poland to her Melody Ranch home with a mixture of satisfaction and unease.
The 56-year-old movement teacher spent her first week in Poland with a non-profit organization called Global Volunteers, which she found after a friend from the United Nations recommended that she partner with an NGO.
She thought she would help Ukrainian refugees. Instead, she paid $3,000 to live in a luxury home and teach Polish students English.
"I would be sitting there at night listening to a concert pianist with smoke coming out of my ears because I was like, 'That's not why I'm here,'" she said. "This program needs evolution."
Fortunately, the next two weeks were more productive. Through a last-minute connection with the director of a local emergency daycare center, Hogan found his way to Modalinska, a humanitarian aid center serving about 2,000 Ukrainian refugees in Warsaw.
Hogan's role was to provide a bit of distraction and an ounce of hope. She spent the mornings providing basic care so the mothers could rest and try to plan next steps. In the evening, many of these mothers came to Hogan's classes to dance.
"They were so grateful to laugh," she said. "They don't want to sit around and mope.
"I think so often, you know, we've focused on housing and food and jobs…but those social aspects are really important. They create that circle of community that connects you to your own sense of personality.
Hogan found her own community in Elena Vinokurova, an elementary school art teacher from Ukraine who painted vibrant handbags in the evenings to keep her sanity.
"Little by little", said Vinokurova, things will get better, "little by little".
Elena's husband and mother-in-law remained in Ukraine, tending the family's raspberry and cherry orchard in the eastern village of Zolote.
Everyone at the center left part of their home behind. But they didn't give up their spirit, Hogan said.
"We are going to rebuild," they told him. "It's just going to take a long time."
Modalinska is a repurposed warehouse in Warsaw's industrial district, with rows of cots set up for people to stay for a few days. But the families who came at the start of the war have been there for months.
They weren't always in the mood to dance.
One night, instead of moving, they made bead bracelets. A woman put the words "F—Putin" around her wrist.
Hogan also realized that dance isn't always a universal language.
When she pulled out her fancy parachute and tried to show everyone how to make a mushroom out of it, they all let go, letting the fabric flow around them, rather than sealing the igloo. Hogan was frustrated. She tried to demonstrate through sign language. The children did not understand.
At one point, a mother stopped, puzzled by the awkward spectacle.
"I was sweating so hard," Hogan said, recalling what quickly became a "stalemate" with a group of Ukrainian teenagers. "It was sold out on Lord of the Flies," she said.
For the most part, however, Hogan felt she was doing meaningful work. Although she doesn't speak Ukrainian, she said the children "just needed love and security."
"They needed someone to hold them, and I knew I could do that."
At the end of his time in Warsaw, Hogan helped organize a talent show at the center. The children made a colorful collage as a backdrop. Generations of Ukrainians sang familiar songs in harmony. And an 8-year-old girl, Masha, played the piano, creating beauty in the midst of the war.
"Those are just the most extraordinary moments," Hogan said.
The city plans to disband the Modalinska center to redirect refugees to a larger facility called Patak 3, which houses around 10,000 people. Families don't want to move, but they may not have a say.
5,000 miles away, Hogan has even less to say, but she does her best to keep in touch with Elena and monitor the situation.
As it happens so easily, however, she can already feel the geopolitical conflict — and its thousands of affected families — slipping from her consciousness. National attention inevitably shifts and life in the small town of Jackson goes on.