Inclusiveness and national manufacture are the benchmarks of Ocean and San clothing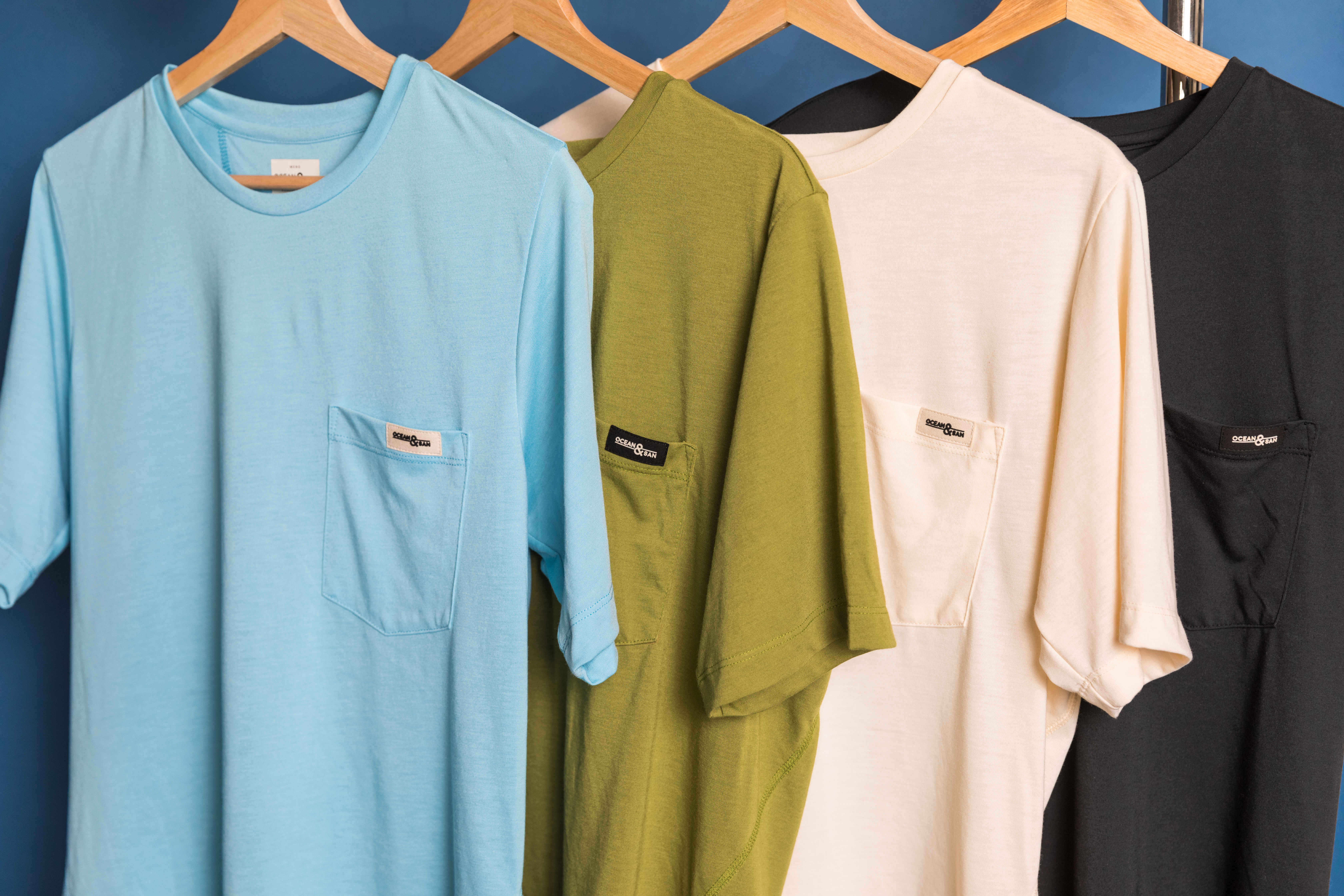 VENICE BEACH, Calif. (BRAIN) — Alec Wilimovsky, Andy Lau and Jake Durrant created Ocean and San cycling apparel to make casual yet functional tops suitable for all body types.
And to do everything in the United States
"We designed Ocean and San to allow people from all walks of life to ride in comfort and style, regardless of their cycling experience, and without breaking the bank," said Wilimovsky.
Officially launched last March, Ocean and San caters primarily to consumers with a reseller network of 10 stores in Southern California and other partnerships are being explored in the western United States.
Wilimovsky said the genesis of the Ocean and San came from wanting apparel for all riding styles, from trips to the coffee shop to local mountain bike trails and gravel roads. The collection includes short and long sleeve tops and tanks, all designed with three back pockets and made from a cotton/polyester blend Dri-Release fabric. Short and long sleeve shirts also have a front pocket.
"We designed the All Day jersey because we were tired of riding an hour to a coffee in a jersey designed to win the Tour," Lau said. "There was a big disconnect between how we rode and what we wore."
After receiving feedback from friends and fellow cyclists, Lau and Wilimovsky found that their clothes would have even more applications.
"We quickly realized that this garment was perfect for more than just the coffee shop ride," Wilimovsky said. … Our evening gravel rides were always more enjoyable in a T-shirt. We just needed one that could hold our stuff securely. When running errands in town, it is always more comfortable to ride with our wallet and phone in our shirt rather than in our back (trouser) pockets. The product we designed resolved all of our concerns, and the feedback showed us that we weren't the only riders with these concerns."
Although the trio had no fashion design background, Ocean and San started after Wilimovsky retired as a professional triathlete and invested his life savings in starting the business. But that only resulted in a website, a swatch of short sleeves "and just about enough fabric to produce a single tablecloth," Durrant said. It was then that Wilimovsky's older brother, Jordan, lent enough money to go further.
"We were confident in the product we wanted to make," Wilimovsky said. "There were months of research and development before landing on a product that we were excited to ride in, but then came the hurdle of turning that idea into reality. We had a lot of uncomfortable miles to cover in prototypes that weren't quite what we wanted i.e. armpit rashes, dropped phones and sweaty backs Eventually we landed on the perfect prototype to go from before and produced a few to test on friends and the community.
While comfort and functionality were paramount to the team, inclusivity was also a consideration. Ocean and San men's clothing offers sizes up to XXL and women's ranges from XS to XL.
"If you've ever zipped up a running jersey with a few extra pounds on it, you know how uncomfortable and intimidating it can be to walk through the door and start your run, let alone have the confidence to join a new race. group." —Jake Durant
"The world of cycling can be daunting. Many fashionable cycling brands can often feel inaccessible, elitist, and for a novice cyclist the cost of a full kit from many brands can be enough to turn them away from the sport" , Durrant said. "If you've ever zipped up a running shirt with a few extra pounds on it, you know how uncomfortable and intimidating it can be to walk through the door and start your run, not to mention have the confidence to join a new group race."
Prices for men and women range from $75 for long-sleeve shirts, $68 for short-sleeve, and $55 for tank tops.
"We work with low margins so we can offer high-quality, locally made clothing that doesn't require you to dip into your savings account," Durrant said.
And local manufacturing aligns with Ocean and San's ethical beliefs.
"We like being able to text our plant manager anytime," Durrant said. "Having manufacturing right next to us allows us to closely monitor quality control, reduce overhead, and make necessary design adjustments. It was important to Alec and I that we could walk into our factory and be on a first name basis with the people who cut and sew our garments. Because we manufacture locally, it allows us to be more accountable and transparent with our customers. We also know that our consumers appreciate the fact that we produce locally and in United States"
Durrant said "fast fashion" — manufacturing overseas, shipping to the United States, while ignoring environmental impacts — is one of the industry's worst pollutants. All Ocean and San shirts come in recyclable packaging and local deliveries are made by bike. To reduce overhead, Ocean and San manufacture small batches whenever inventory is low or when a retail partner needs to replenish stock. This strategy has the added benefit of giving him the ability to make product improvements when needed.
"We also take steps to ensure ethical sustainability," Durrant said. "For example, when supplying a factory in Los Angeles, we made sure that all workers had fair working conditions and were paid decent wages."
The expansion of its dealer network is a goal for the future. Luft Los Angeles Cycling Shop was its first retailer. "We try to partner with dealers who share our brand values," Wilimovsky said. "We love cycling community spaces and stores that bring local cycling communities together. Luft was founded with the goal of bringing the LA community together, increasing representation and expanding cycling culture beyond cycling. ."