Jaanuu Scrubs and Clothing Review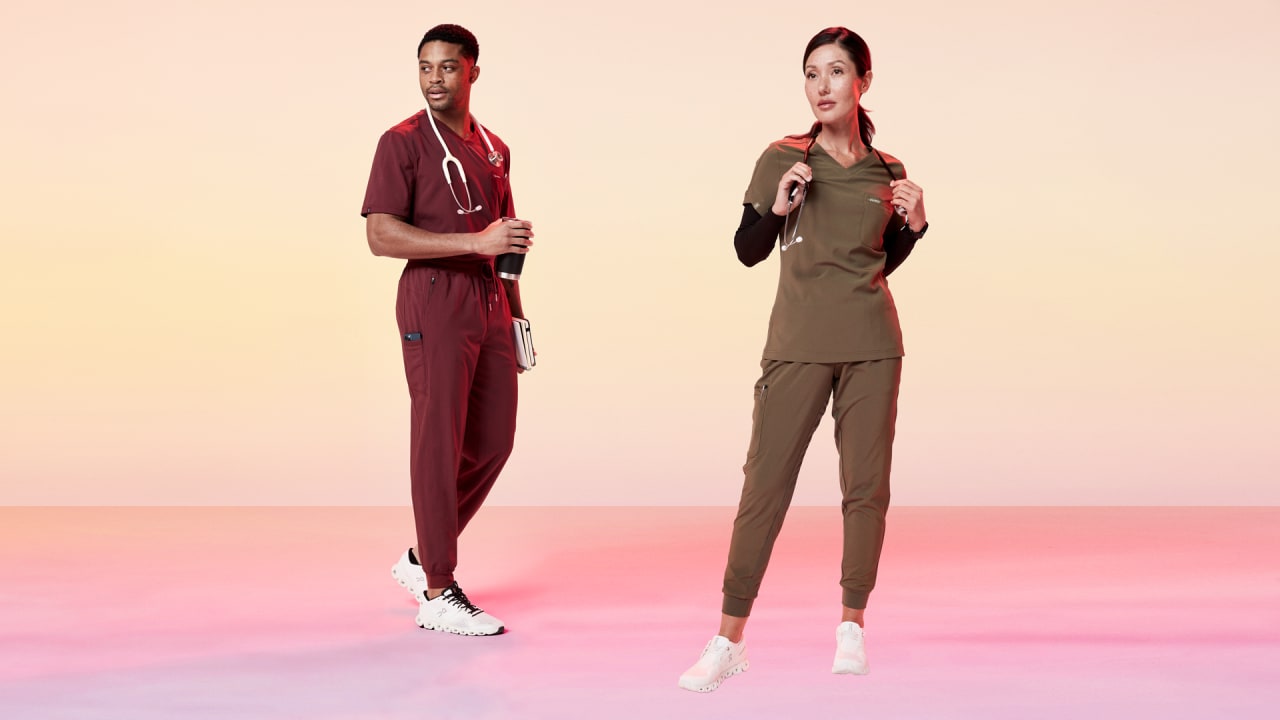 Medical scrubs are hot right now, because, well, they're hot all the time. They don't go out of style, they're still needed, and the people whose jobs require them will continue to buy them back, as needed. The medical apparel industry was seen as ripe for disruption, with direct-to-consumer brands like Jaanuu, Clove, Folds and Figs offering trendy scrubs and shoes, expanding otherwise generic options for healthcare workers . The concept seems to carry some weight: Figs' IPO kicked off in 2021, targeting what the company estimates to be a $12 billion U.S. healthcare apparel industry.
Jaanuu received a $75 million investment from Eurazeo in January, bringing its total funding to just under $100 million. The company's co-founder and CEO, Shaan Sethi, said he would use the funds to increase brand awareness. Jaanuu began diversifying its marketing channel efforts earlier this year – its new "Reimagine Greatness" campaign debuted in late May – and the brand continues to expand its key leadership team (including two former Nike executives), innovations in fabrics and its categories.
And that's how we come to me (of course) – a non-caregiver who found and fell in love with Jaanuu this spring. Earlier this year, the brand branched out into loungewear for men and women, creating joggers, hoodies and tank tops made with a super-soft, stretchy polyester blend in plush, heather tones ranging from $42 to $60. Unlike their scrubs, Jaanuu doesn't break the mold with its lounge category, but rather its integration. The silhouettes reflect popular athleisure. (Jaanuu's $60 jogger is, in fact, a perfect copy of my $80+ joggers from a well-known athletics brand. Right down to the fabrication and placement of the tags.) But that's a bit the point.
Jaanuu's main customer remains the healthcare worker, according to Sethi, but his face masks have extended the brand's appeal beyond the daily scrub wearer. The face masks – made from the same moisture-wicking scrub fabric and treated with Silvadur, a silver-ion polymer, which makes them antimicrobial – have expanded Jaanuu's reach to non-medical personnel, like me, who wore the comfortable and breathable masks of Jaanuu during his lectures. (They've also been bolstered by the ultimate endorsement of "as seen" celebrity with former President Barack Obama.) To date, the company has sold 8.2 million of its masks and donated them to many. million more to nonprofits throughout the pandemic.
Sethi says that while the masks were designed for the general public, the company sees the loungewear category as "supporting the 12-hour shift for people around the clock." say offering healthcare workers something comfortable to change into when they are off. . This concept is somewhat guilt-inducing, as living a few blocks from the mass general hospital reminds me daily how insignificant my daily risks at work are compared to those on the front lines. Still, the buttery fabric and twist-free waistband call out to me whenever it's pants-free time. These are my favorite summer sweatshirts; subtle and conventional enough to fly under the radar like streetwear. They hold their shape, never pill and have retained their silky smooth feel through many washes.
A licensed veterinary technician, aka a real medical professional, Baphomet Nayer (also, fast company fiancé of associate editor David Salazar), had already bought three pairs of Jaanuu scrubs for her work and had nothing but good things to say.
"As a short guy, I've always struggled to find scrubs that didn't swallow me whole," he says. "In Jaanuu scrubs, I look like a member of my team rather than a kid playing doctor for the first time. Plus, the fabric is really nice to the touch and can handle anything: hot coffee spills, blood, etc. With every wash, all the stains and messes of the day are removed, even my Sharpie initials come out right away, and the scrubs look as good as the day before.Overall, I give Jaanuu a 10/10 for durability, inclusiveness and style.
Jaanuu's major decisions reflect the mindset of a doctor, Dr. Neela Sethi Young (co-founder's sister). Loungewear, Sethi explained, is a simple and dependable comfort offering for healthcare workers like her sister, who "spend so much time serving others. Neela says you have to fill your own cup to fill other people's cups," he adds.
While I can't think of anyone who deserves more super comfy sweats than those coming off a 16 hour shift in the ER – I think there are a lot more amazing doers out there who would benefit from leisure wear from Jaanu – think parents, caregivers, dog walkers, even you. Because taking care of yourself is important too.