Kuna, Melba Senior News | Local News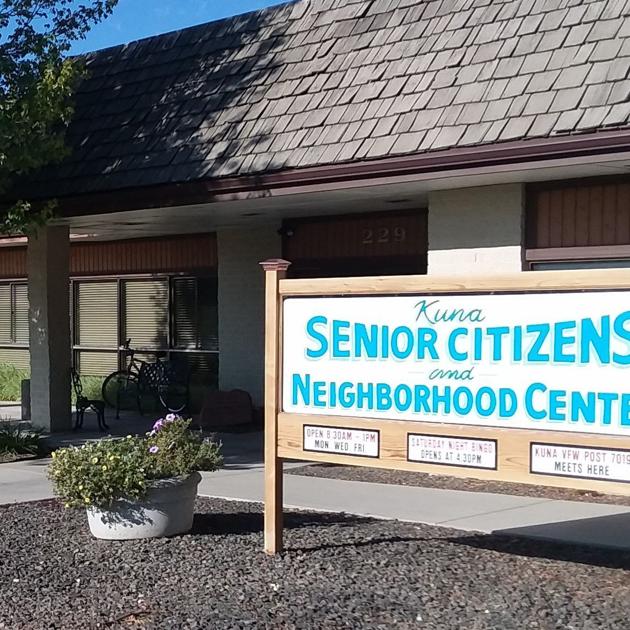 229 N. Ave. B | 208-922-9714
The Kuna Senior Center offers bus services, sit-down meals, and a full program of events and activities. The centre's sanitary precautions continue with temperature control at reception, social distancing seats, available hand sanitizers and daily disinfection of all affected surfaces.
The Kuna Senior Center bus runs safely five days a week with federally mandated health precautions. Please reserve your spot in advance for weekday pickups, drop-offs, purchases, medical appointments, and field trips. Call 208-880-0556 for information on buses and seat reservations.
Donations of breads and baked goods continue with new items arriving on Fridays. Don't forget the donation bucket to help Kuna Nazarene Church pay for fuel to people doing weekly collections in several stores.
We still cannot accept donations from households. Cash donations are always appreciated and necessary to support the Centre's programs. Please do NOT drop off any donations or leave them outside our building as we are limited to disposing of them which may incur a handling fee. Options include the Idaho Youth Ranch and St. Vincent de Paul thrift stores in Meridian as well as the Melba Valley Senior Center Cottage Thrift Shoppe. All of these places accept donations from clean and quality households.
Local jobs are available. Thank you for sharing with those looking for a job!
We need cooks and drivers for Metro Meals On Wheels. These people take care of our kitchen, our dining room and the meals delivered to our homes. Work from Monday to Friday; no evenings or weekends. Hourly wage plus eleven paid holidays, medical, dental and visual benefits. Contact Grant Jones at 208-321-0030 or [email protected]
Valley Regional Transit is looking for part-time drivers in the Treasure Valley. Shifts are 12 to 15 hours / week, morning and evening, at $ 15 / hour. No special driver's license classification is required. Contact Briana for more details by calling 208-258-2714.
CA $ H Bingo Community Sees Crowds and Payouts Increase! No reservation necessary on Saturday evening with doors opening at 4.30 p.m. and games from 6 p.m. Free spaces; so please don't save tables until you are all ready to sit down and play. Donate cans or packets of food to the Kuna Food Bank and receive "Bingo Bonus" playing cards. No potluck on Saturdays due to health restrictions. You can bring your own snacks and food for personal consumption and household sharing. Sodas, waters, and daubers are available for purchase.
If you have any questions regarding the Kuna Senior Center, please call us at 208-922-9714.
11 a.m. Flexible stretching exercises
Field trip: Givens thermal springs
Senior dipping [$5] then lunch
Call 208-880-0556 to reserve a seat.
1 p.m. Living well with diabetes
Board of Directors postponed to June 23
Field Trip: Idaho City Senior Center
Call 208-880-0556 to reserve a seat.
11 a.m. Flexible stretching exercises
No potluck; bring personal food.
A sit-down lunch and drink service is available on Mondays, Wednesdays and Fridays (only) from 11:45 am to 12:30 pm. Take-out is also available; please call 208-922-9714 to arrange. Donations requested of $ 4/60 and over, $ 6 / under 60 and take-out, coupon book 10 meals $ 35.
Home delivered meals are available from Meals On Wheels; call 208-321-0031.
Salisbury steak, mashed potatoes and sauce, beets, pineapple, wheat bread, milk
Teriyaki chicken, brown rice, oriental vegetables, mandarins, wheat roll, milk
Polish sausage & sauerkraut, baked beans, carrots, juice, wheat bread, milk
Melba Valley Seniors Center
115 Base Line Road | 208-495-2168
The Melba Valley Senior Center has health precautions in place and will continue them throughout the upcoming flu season. This means that disposable plates and utensils will be used for lunches, hand sanitizing stations will be provided, lunches will be served at your table, and a building cleaning log will be kept.
The Center is open for lunch. The Center is open for lunch on Thursdays from 11 a.m. to 1 p.m. Tuesday noons will begin on June 22. There is no obligation to make reservations for lunch!
The Melba Valley Farmer's Market takes place on Thursdays in the parking lot from 5 p.m. to 8 p.m. with produce, live plants, crafts, homemade baked goods, handmade products, food trucks and live music! The market will run until October.
Support center programs and operations with quality housewares and apparel purchases at the Cottage Thrift Shoppe gift shop. Located right next to the main parking lot in the old library building. Open Mondays, Tuesdays, Thursdays and (occasionally) Saturdays from 10 a.m. to 2 p.m.
Call the Melba Valley Senior Center at 208-495-2168 with any questions or assistance requests.
Chicken enchiladas, vegetables, salad, dessert