Lifting blockade of Black Sea ports is the only way to avoid food shortages, says Ukraine • Farm Policy News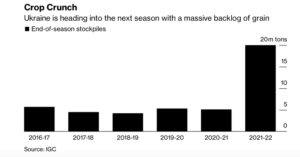 Financial Times writer Max Seddon reported today that "Ukraine warned that the world faces a critical food shortage unless Russia lifts its blockade of the Black Sea port, as improving other transport options would only allow it to deliver a fraction of its total grain stock.
"Oleksandr Kubrakov, Ukraine's infrastructure minister, told the Financial Times that 'everything of our activity will not even cover 20 percent what we could do through the Black Sea ports.
"Ukraine and its Western allies are looking for ways to stand up 20 mins tonnes of grain out of the country and free up storage space for this year's harvest. Crisis threatens tens of millions of people in Middle Eastern and African countries that depend on Ukrainian grain.
The FT article noted that "Kyiv discussed sending up to 4 million tonnes of grain per month via Belarus, which uses the same rail gauges, and to a port in Lithuania, according to a government briefing seen by the FT. But the plan is politically disagreeable because Belarusian leader Alexander Lukashenko let Russia use his country as a staging post for his invasion of Ukraine.
"Although export capacity via the new routes is increasing, EU diplomats estimate that Ukraine will only be able to export around 5 million tonnes of grain by the end of the summerleaving the rest of the last crop at risk of rotting and making it more difficult to store this year's crop.
Reuters News reported yesterday that "Russian President Vladimir Putin on Friday denied that Moscow was preventing Ukrainian ports from exporting grain and said the best solution would be to ship it through Belarus, as long as sanctions against this country were survey."
The Reuters article stated that "earlier on Friday, Belarusian leader Alexander Lukashenko said that Minsk was ready to allow transit of Ukrainian grain to German, Polish, Baltic or Russian ports via its territory if in return it was allowed to ship Belarusian goods from these ports.
Meanwhile, Reuters writer Mark Trevelyan reported yesterday that "the President of Senegal Macky Hall said Russian Vladimir Putin told him on Friday that he was ready to allow the export of Ukrainian grain to alleviate a global food crisis that is hitting Africa particularly hard.
And The Associated Press reported yesterday that "Putin proposed several corridors on Friday allow foreign ships to safely leave the ports of the Black Seas and Azov. He said Odessa and other ports under Ukrainian control could be used for exports after the removal of the mines, as well as those currently under Russian control – Berdyansk and Mariupol. He also suggested smuggling the grain through other countries like neighboring Belarus.
"Ukrainian Foreign Minister Dmytro Kuleba said on Friday that Ukraine is ready to create the necessary conditions to resume exports from Odessa, the country's largest port."
Somewhere else, Reuters writer Daren Butler reported yesterday that "Turkey expects progress on plan to unblock grain exports from Ukraine's Black Sea ports during the visit of the Russian Foreign Minister next week and Moscow and Kyiv want a solution despite their conditions, a senior Turkish official has said.
"Although obstacles remain – such as payment mechanisms for agricultural products and mines floating in the Black Sea – the official said that Moscow could take further positive steps after saying on Thursday that it was open to project."
The Reuters article added that 'Turkey neighbors Ukraine and Russia at sea and has said it is ready to take on a role within a 'observation mechanism' if an agreement is reached. It could involve a Turkish naval escort for tankers leaving Ukraine and passing through the Turkish Strait.
Yesterday too, Elian Peltier, New York Times writer reported that "European leaders have accused the Russian President of creating a global food crisis by blocking wheat exports and seizure of Ukrainian cerealsall in try to blame shortages on the sanctions imposed by the United States and the European Union.
"Global food stocks were already low before the invasion, and the war has aggravated the shortfall. African countries import more than 40 percent of their wheat from Russia and Ukraine. The United Nations says global food prices are 23% higher than a year ago, reflecting the shortage of supplies.