SECOND. V BASEBALL: Alexander beats Warsaw, advances to face seeded Gananda in quarter-finals | Sports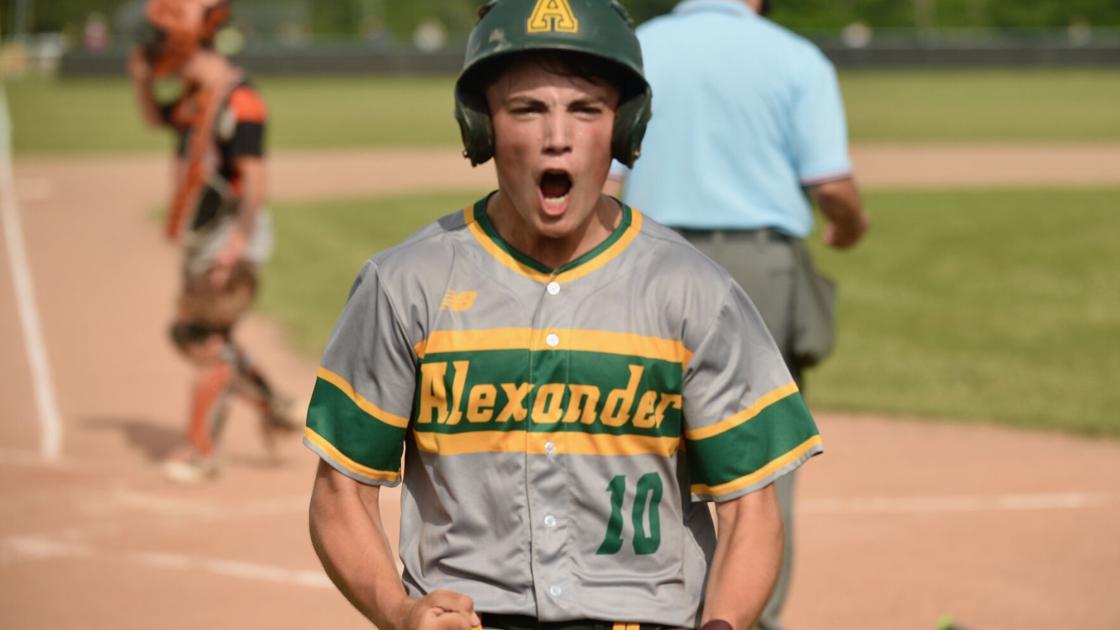 ALEXANDER – Mistakes and missed opportunities were a big part of Warsaw's history in Monday's 7-3 section loss to Alexander.
The Tigers left 12 runners on base, made five mistakes and just couldn't get out of their own way as the Trojans capitalized on mistake after mistake en route to advance to the quarterfinal of class C1 where they will take the upper hand. sown Gananda on Wednesday.
Alexander played a clean and efficient game against Warsaw, heading for a four-point victory behind timely strikes, a good pitch and quality defense. Alexander recorded his seven runs on six hits, five walks and a batter on the hitter, but key coach Ben Whitmore entered the strikeout column.
"The games that we lost, we took them out too often on strikes," said Whitmore, whose Trojans have only scored five times in their six innings at home. "We talked about the importance of two strikes and not looking down, which leads to putting the ball in play and making (other teams) make plays."
Alexander put the ball into play all night, including using decay to his advantage. During the Trojans' three-point second, an error created by a sacrificial sacrifice opened the door for the big round.
To start the frame, junior Jacob Laney made a mistake and came back to score a few shots later as fellow junior Gunnar Kania netted an RBI brace which led Laney, who was flying on the field, from the first to increase the Alexander's lead at 2-0.
Then senior wide receiver Maverick Bump laid a sacrificial bunt right next to the mound. Warsaw couldn't make the play as a knockdown flew over the head of junior first baseman Ty Dawley and into a dirty field. Bump moved up to second on the pitch as Kania came in to score from second place to make it a 3-0 game. Bump later scored on a ground RBI on sophomore Christian Kissell, and when the dust settled in the second it was a 4-0 lead over Alexander.
The rally in the third proved enough for the Trojans, who broke the seal in the first on an RBI single from senior Josh Merrill, who scored compatriot Nolan Quackenbush who had hit his own single.
The Tigers loaded up the basics to start the game ahead of the first, but came away with nothing as Alexander senior starter Hunter Fletcher was able to get out of a jam start.
Warsaw entered the table early in the third on an RBI single from seniors Eddie Stores, but Alexander responded right away in their half of the frame as another Tigers mistake on another sacrifice of sacrifice helped the cause of the Trojans. Kissell finished with his second RBI on a ground-loaded pitch hit, which led Joey Donnelly from third. Donnelly reached a step to start the round.
The Tigers threatened again in the fourth and placed the runners in the second and third with just one out, which chased Fletcher in favor of Kania, who came in relief. But Kania recorded the last two withdrawals to stifle the Warsaw rally.
Kania took the win, pitching the final 3 2/3 innings, allowing two runs on six hits and walking while striking out two strikes. Fletcher pitched the first 3 1/3 innings, allowing one run on three hits and six walks while striking out four.
Warsaw made two more errors in the sixth on two routine infielder pop jumps, allowing the Trojans to add two more runs for good measure. Warsaw scored two in the lead of the seventh, but it was too little, too late.
"We had a guy who played three innings of varsity baseball before this year – that was it," said Whitmore, proud of his inexperienced group's victory. "Everyone was new and it was a big learning curve. It's finally starting to roll together.
Alexander improves to 8-8 and prepares to face the Blue Panthers (15-3) seeded in the quarter-finals of C1.
"These guys are full of life and energy, and it's fun to be with them," said Whitmore of his team. "We don't want this race to end.
The Warsaw stores were hit by the loss, going through the first three innings, allowing five runs, of which only two were earned. Stores allowed just three hits, but walked four and hit a batter while putting out three. Tigers rookie Ty Joy came on the relief and pitched 2 2/3 innings, allowing two runs, none of which were earned, on three hits and a walk while striking out one. Junior Lucas Cornell came in to replace Joy in the sixth and recorded a strikeout for the final out of the frame.
Quackenbush and Kania led Alexander's offense, both of whom recorded multi-hit matches. Quackenbush scored two runs and stole two goals, while Kania added a run batted in, a run scored and a stolen goal. Stores and Joy have each recorded multi-hit games for Warsaw (6-8).