SECTION V VOLLEYBALL: Attica, Le Roy, Letchworth, Warsaw, Alexander, Pavilion and ND all advance to the semi-finals. | Sports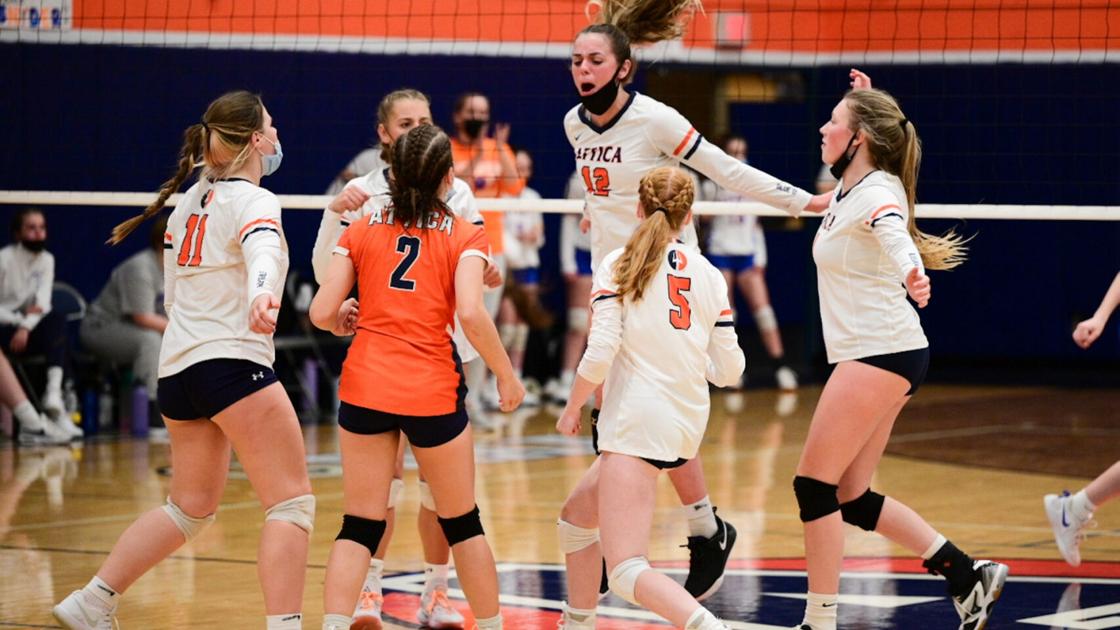 ATTICA – Fourth-seeded Attica quickly beat No.5 Livonia on Friday night as the Lady Blue Devils (17-1) swept the Class C quarterfinal game – winning 25-14, 25- 16 and 25-17.
Ellie Cusmano had her usual consistent game with 13 digs, 7 aces and 5 eliminations while Chase Harding and Emily Gadd added 8 eliminations and 7 eliminations respectively.
Elise Dressel had 19 assists and 7 digs while Tori Walker tallied 21 digs and 2 aces as Attica advanced to the semi-finals.
For Livonia (11-11), Hannah Ingram managed 2 recoveries with 2 kills and 1 ace.
Second-seeded Le Roy (20-1) won three close sets to advance to the semi-finals with victory over No.7 Mynderse.
The scores were 25-20, 26-24 and 26-24.
For LeRoy, Allie Ingles had 17 kills and 6 aces while Hailey Johnson added 22 assists with 11 digs and 4 kills.
Riley Wood added 19 digs, Katie Salphine posted 9 assists and one block, Dana Reschke posted a double-double with 11 assists and 11 digs while Quinn Doty posted 10 digs with 5 assists and one block.
LeRoy advance to the semi-finals where they will face No.6 Penn Yan on Tuesday in Avon.
Letchworth on Clyde-Savannah
Morgan Brace had 12 assists with 8 aces as No.1 seed Letchworth swept away No.9 CS on Friday night.
Brace served for 11 straight serve points in Game 2.
Letchworth won by scores of 25-13, 25-11 and 25-15 to advance to the semi-finals.
Also for the Indians, Abbie DeRock added 5 aces, Alannah Roberts had 12 digs, Maddison Strathearn had 11 digs, Trinity Scott added 6 kills and Jaylene Cole had 3 kills and 2 assists.
Warsaw, the third seed (14-6), swept Canisteo-Greenwood, number 6, Friday in the quarterfinals.
Kaylee Herrmann led the way with 21 assists while Gianna Girod added 9 kills and Erin Daugherty contributed 4 aces.
Deanna Johnson-Myers had 6 kills with 6 aces and 2 blocks while Emma Herman contributed 4 kills and 1 block for the Lady Tigers who will meet Alexander in the semifinals.
No.2 seed Alexander defeated No.7 Pembroke on Friday in four sets.
The scores were 25-23, 25-16, 22-25 and 26-24.
Alyssa Kramer led the Trojans with 15 kills and 5 aces while Adeline Kautz distributed 26 assists.
Sam Sawyer contributed 12 digs and 7 kills as Alexander improved to 16-3,
The host, undefeated, No. 2 seed (21-0) swept through No. 7 Byron-Bergen on Friday winning 25-15, 25-21 and 25-19 in Friday's quarter-finals.
Pavilion's sweeping streak throughout the season was compromised in the third set when they led the Bees 14-10 in the third set. Pavilion, however, saw Sara Laurie serve for six consecutive points and Shannon Campbell closed the set with four serve points, including two aces in a 15-5 streak to win the set 25-19 and continue the set. 'incredible streak of 63 consecutive sets. .
Campbell led Pavilion with 27 assists while Karlee Zinkievich added 8 kills and 3 aces.
Lauren Kingsley knocked down 9 kills and 4 blocks while Adeline Milligan added 8 kills and 3 digs.
For BB (11-7), Lexi Vurraro led the way with 16 assists, 3 aces, 2 kills and 2 digs while Jorie Strzelecki added 9 digs with 5 kills and 2 aces.
Grace Huhn added 8 kills and 2 digs, Emma Balduf had 3 kills, 3 digs and an ace, Sadie Cook added 6 digs and Olivia Senf had 2 kills.
Pavilion will face No. 3 Lyon in the semi-final on Tuesday.
The seed Fillmore beat Elba in straight sets Friday – 26-24, 25-14 and 25-14.
For Elba Island, Laci Sewar made 3 kills with 3 kills and 2 aces while Carolyn Sybertz added 3 kills and 1 ace.
Sydney Reilly had 18 digs, Alexandra Belluscio added 2 kills and a block while Mariah Ognibene registered 2 kills.
Second seed Notre Dame swept No.7 Belfast 25-13, 25-21 and 25-15 to advance to the semi-finals.
Lindsey Weidman led the way with 7 kills, 3 digs and 3 aces while Avelin Tomidy added 5 kills and 2 digs.
Maggie Monachino distributed 20 assists with 3 assists while Sonji Warner added 8 digs and 2 aces.
Nptre Dame will play third place for Houghton Academy in the semi-finals.