Syracuse icon continues under new ownership | News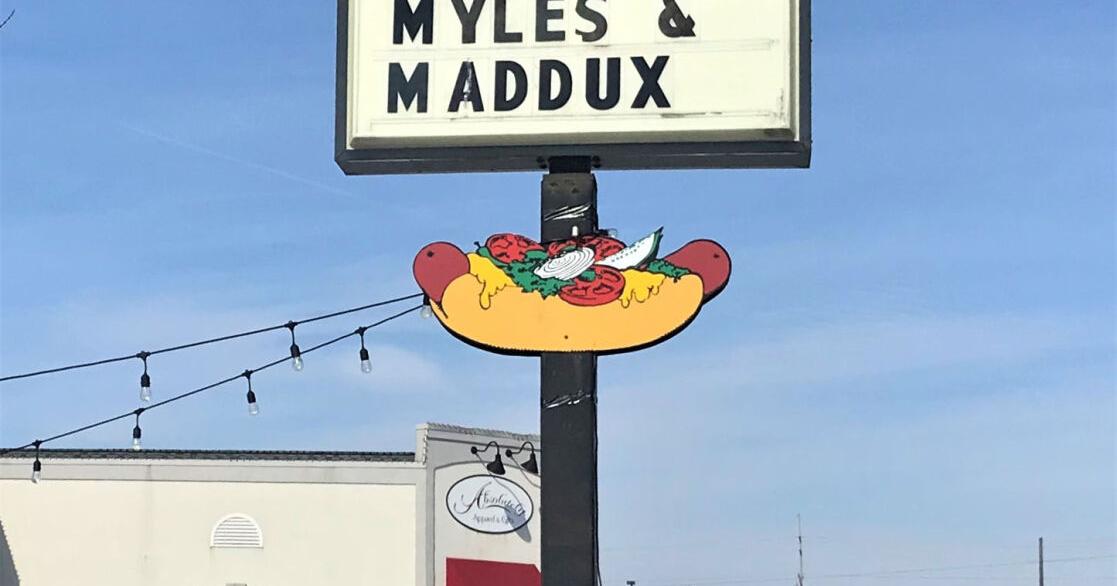 Dating back to 1976, Pat's Chicago Dogs is a Syracuse Village staple. Originally serving Chicago-style dogs, the menu has since expanded.
NEW OWNERS
The Berkeypile family took over in 2020, and Sheila Berkeypile and her daughter, Wendy Weldy, run the restaurant. Claiming "the only fast food restaurant in town that uses fresh ingredients", the preparation time each day involves long hours.
The nostalgic vibe catches your eye as you walk through the door to place your order at the window. It's all Chicago, including Cubs memorabilia, a gumball machine, and a wall of Post-Its with customer reviews. After you pay they give you a playing card that identifies your order.
The original menu remains intact, but everything is farm-fresh, hand-cut, and Viennese beef hot dogs are featured.
VIENNA BEEF
According to the Vienna Beef History Museum in Chicago, the notion of a frankfurter dates back to medieval Frankfurt, Germany, and was made from pork. In the 1800s, an obscure butcher in Vienna started adding beef to the mix, and it sparked a new sensation.
In 1893, a sausage called "Vienna beef" was introduced by Austro-Hungarian immigrants Emil Reichel and Sam Ladany at the Chicago World's Fair. More than 27 million people attended the exhibition and the family recipe for frankfurter was a resounding success. The Viennese beef hot dog was born, and the immigrants opened their first store the following year on Chicago's West Side on Halstead Street.
Demand for their dogs grew, and in 1900 the Vienna Sausage Manufacturing Co. began selling to area restaurants and stores. In 1908 local deliveries with horse-drawn wagons began, and in 1928 they introduced automobile deliveries.
By 1950, "Vienna Beef" hot dogs had swept through most of the country, but didn't hit the West Coast until 1962.
In 1976, Vienna Beef hot dogs came to Lake Country.
Today, the Vienna Beef brand has a major pickle operation, bought brands like David Berg and Red Hot Chicago, formed Hot Dog University and founded the museum.
CHICAGO-STYLE
It is not known when the taste "à la Chicago" was created. Some believe it was concocted by hot dog cart vendors on Chicago's Maxwell Street during the Depression.
There are several variations, but the most common dog is served in a steamed poppy seed bun and topped with sweet pickle relish, chopped onion, a slice of dill pickle, tomato, sports peppers, yellow mustard (never ketchup) then sprinkled with salted celery. The most common dog formula is steamed, but many grill the dogs to create the "char-dog."
PAT'S CHICAGO STYLE RESTAURANT
In addition to the Chicago-style dog, Pat's also offers the ever-popular Coney-style chili and cheese dog. But it's not just dogs, and the Polish and Italian sausages are outstanding. Either Chicago style or with their pepper-onion-kraut mix. They also add mushrooms to this latest mix for their Philly steak.
For lighter fare, there's a chicken club salad, Chad's famous chili, which they had come out of that day, and a basket of chicken strips.
Pat's also offers burgers with the Chili and Cheese Burger and the "Patti" Meltdown receiving raves. Other sandwiches include chicken, fish, and Hoosier's classic specialty, breaded pork tenderloin.
Beyond the norm are the 'locally known' sandwiches, including the 'Peterson' burger, 'Tom Thornburg', 'Bill Dixon', 'Jason's Revenge' and four others.
For sides, their cheese fries are exceptional, but they also offer bacon fries, taco fries, and chili cheese fries. Other items include their hand breaded onion rings, mushrooms and pickles.
Finally, there is a children's menu and desserts. In the summer, they have a monthly ice cream flavor, but fried Oreos are always available.
I always go for the Polish sausage, and that day I had this all beef log with onions, peppers, kale and brown mustard. It was a big elbow and got drunk. That and the onion rings were more than enough.
Gayle, my wife, chose the classic chili dog, which she declared "good". That and a portion of cheese wrapped fries were quite filling.
If you want classic Chicago-style dining, the new owners of Pat's Chicago Dogs are carrying on the tradition in Lake Country.